Reduce interest payments and increase cash flow.
Consolidating debt—as long as you are doing it well before financial distress sets in—can make a world of difference when it comes to getting approved or being declined for a mortgage.
As seen in the chart below, consolidating debt can reduce monthly payments significantly and create increased cash flow.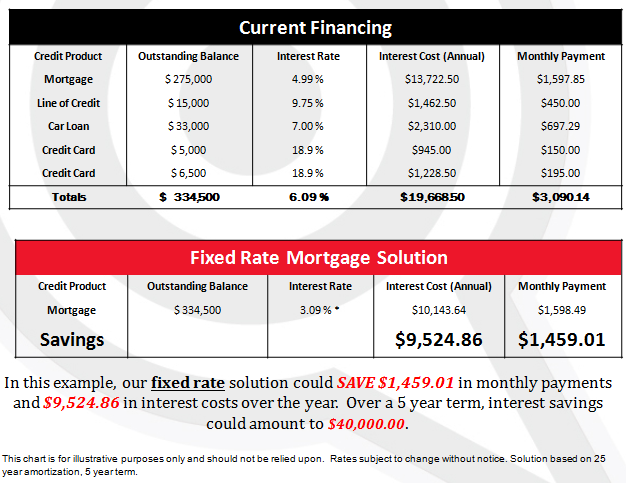 Key Benefits of Debt Consolidation
Lower monthly payments. Consolidating your debts gives you the ability to obtain a lower interest rate than the combined rates of all your debts. You can also reduce your monthly payments by extending your repayment term. Even with an extended term, you still have the ability to pay more than the minimum monthly payment at any time.
Save on credit card interest. When you consolidate outstanding credit card balances into a loan with a lower interest rate, your interest costs can be reduced significantly depending on the interest rates charged by the credit cards.
Leverage the equity in your home to save even more. If you use your home as collateral for a loan, you may be able to negotiate a lower interest rate for all your combined debts, and extend your repayment term, therefore lowering your payments.
One monthly payment. Consolidating your debt simplifies your finances by giving you just one monthly payment to make.
Have your debt in one place. Centralizing your debt into one vehicle can save you time and money. AAL offers a range of products to make life easier.
Credit Repair Tips
Credit Score
Keeping yourself aware of what is going on with your credit is very important.  Credit Bureau agencies have various programs available for you to use in order to check your credit score on the spot or sign up for a credit monitoring service. Continue reading.

Bankruptcy
Filing for bankruptcy can provide much needed relief to debtors who have come across unfortunate circumstances. Once bankruptcy is declared, unsecured creditors are no longer able to garnish your wages or initiate collection. Read more.
Mortgage Calculators
Mortgage Info Centre